The SGRN is composed of a president, an elected director, a board of directors and a scientific committee.
President
Hervé Pingaud
CUFR Champollion  
Director
Pierre Lagarrigue
SGRL, Albi
ICA, Toulouse  
Board of directors
The board of directors is composed of one representative for each signatory institution of the SGRN convention. The board of directors is responsible for the scientific strategy and the research projects.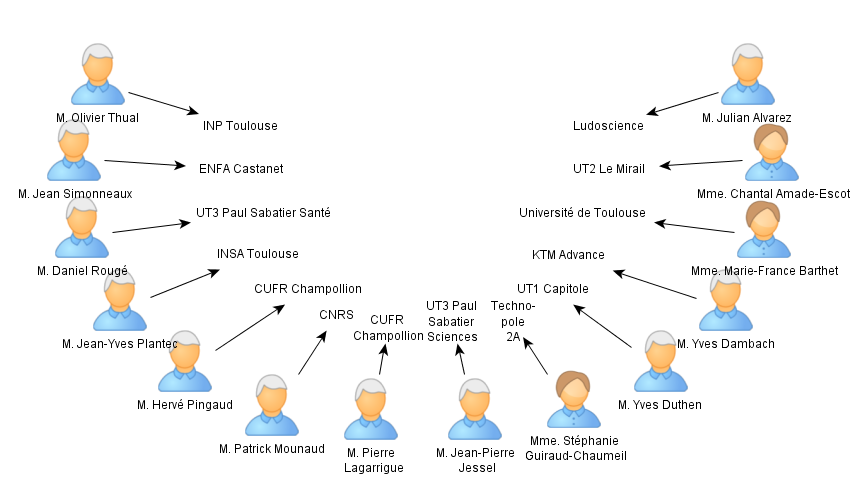 Scientific Committee
The scientific committee gathers reknowned scientists from each discipline concerned by the the activities of SGRN, particularly health and mechanical engineering
The role of the committee is to maintain the relevance and the quality of the activities of SGRN.
Serious Game
Catherine Lelardeux
SGRL, Albi
David Panzoli
SGRL, Albi
Michel Galaup
UFR UMTS, Toulouse
Damien Djaouti
Ludoscience
Louise Sauvé
TÉLUQ
Raquel Becerril-Ortega
Trigone-CIREL,
Université de Lille 1
André Aoun
IRIT, Université Toulouse III
Jean Heutte
CIREL,
Université de Lille I
Sociology
Michèle Lalanne
CERTOP,
Université de Toulouse II
Health
Vincent Lubrano
CHU Rangueil, Toulouse
Vincent Minville
CHU Rangueil, Toulouse
Bernard Rigaud
ISIS, Castres
Mechanical Engineering
Philippes Lattes
Aerospace Valley
Marc Sartor
ICA, Toulouse
Xavier Aubard
IRT, Bordeaux
Amméziane Aoussat
ENSAM, Paris